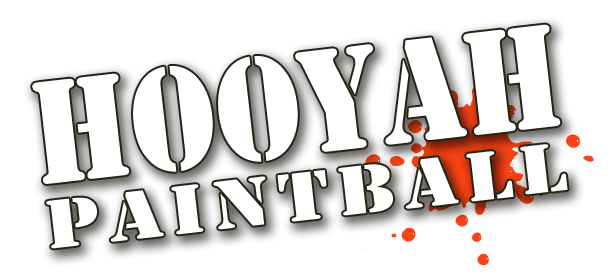 Hooyah Paintball is located in Ruimsig.
SAFE & FUN PAINTBALL RANGE
Hooyah Paintball provides awesome entertainment for groups of all sizes. We cater for various functions including Birthday Parties, Bachelor Parties, Youth Groups, Corporate functions and Team Building events.
We boast a large man-made Paintball Field with mounds, dugouts, bunkers and tyres. Our field is fully equipped with floodlights for awesome night games!
Hire our 80 meter Zipline, it's guaranteed to get your adrenaline rushing!
Challenge yourself on our Obstacle Course, equipped with swing ropes, cargo nets, hanging bars and balance beams, free to all groups.
Each group area is paved with comfortable shaded seating, picnic tables and benches. We have clean ablutions and secure parking. Braai facilities are available at no additional cost.
Our "Boot Camp" style parties with target shooting, obstacle course challenge and zipline are very popular for under 8's too young for normal paintball. For the younger guys & gals over 8, we offer paintball parties with the option of booking smaller guns that shoot smaller balls!
Please note that the Peter Road entrance to Hooyah is closed.
Kindly use an alternate route to reach us. Review map below.


PAINTBALL FEES
A minimum of 8 players per booking.
3 hour session
Longer sessions can be arranged
Adult Guns
We use high quality semi-automatic BT and Tippmann rental guns.
Kiddies Guns
We have smaller guns available that shoot smaller balls! Please specially book these in advance.
Protective Mask
We use high quality masks that are replaced and upgraded often.
Chest Protector
For girls & children under 15
Group Benefits
Use of Obstacle Course FREE of charge
Braais available to use at no extra charge
EXTRAS
Chest Protector: R 20.00
Extra Paintballs:
100 – R65.00
200 – R120.00
500 – R270.00
1000 – R450.00
2000 – R780.00
Zipline: R450 per group.
Waterslide: R950 per group.
* We are open on Sundays!

What should I wear?
We recommend that long pants and a long sleeved T-Shirt or tracksuit top be worn. Old clothing recommended. Wearing gloves to protect your hands and backwards caps to cover your neck is also recommended.
Is paintball safe?
Yes, paintball is very safe provided you keep the rules and use common sense such as not removing your mask in the playing field.
Does it hurt to get hit by a paintball?
It can hurt sometimes. A player will usually feel a slight sting that will quickly fade – similar to a firm flick on the arm – paintballs can also cause welts and bruises depending on the speed of the ball, the distance the ball travels, and where on your body the ball hits. To keep things fun and safe, be sure to keep your gun firing slower than 280 feet per second. Our markers are always set to a safe speed.
How much a paintball hurts also depends on how much padding or protection you wear. If you are only dressed in jeans and a t-shirt, expect small bruises that will fade in a few days, while a jersey or other thick clothing will usually prevent bruising. If you wear multiple layers you shouldn't have any problems.
Do paintballs stain clothes?
Generally no, as paintballs are water based, however darker clothes are recommended.
Do paintballs biodegrade?
Yes, all our paintballs are fully biodegradable and will generally vanish after a rainstorm.
How many paintballs will I use?
That depends on how trigger happy you are. Generally 100-200 paintballs per hour is typical of a social game.

Online Bookings
Please complete the form and we will contact you to finalise your reservation.